December 23, 2014
Can we have a little bit more snow (like this) for the holidays? One more day until winter break!
December 17, 2014
Thank you, Greenfield Community College students for your excellent presentations today. Another huge thank you to their Marketing course instructor, Tina Stevens, for the opportunity as the classes "client".
December 16, 2014
Both the studio and Salmon Falls Gallery staff together enjoying the annual JSCG holiday lunch!
December 18, 2014
The annual race track pastry and staff lunch for the holidays! We all wanted naps afterwards... Delicious!
December 2, 2014
Josh caught this breathtaking shot while flying over Long Island. Looks similar to gold leaf on Josh's Planets...
December 11, 2014
Josh and Jay working on some Blue New Mexico Bowls.
December 10, 2014
Kim Polishing 3" Inhabited Planet Paperweights in the cold shop!
December 5, 2014
NASA's Orion Soars on First Flight Test
Congrats to Cady Coleman and the rest of NASA on a successful launch and future space discoveries!
December 4, 2014
Josh checking some 3" Inhabited Planet Paperweights. Everything Josh makes is checked before it is cold worked, signed and sent out the door.
December 1, 2014
The studio during snow fall last Wednesday.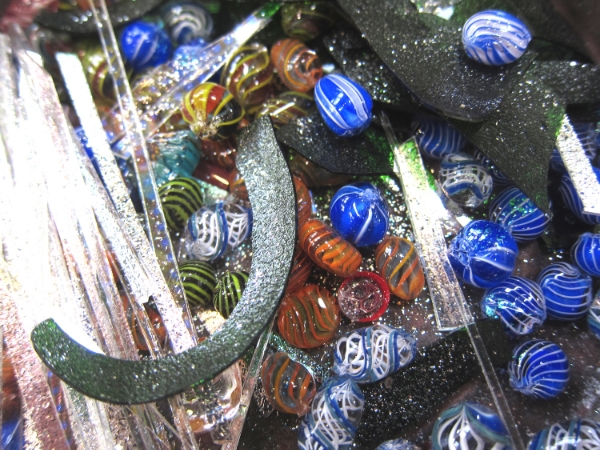 November 24, 2014
Shiny spaceships and dichroic strips of glass
November 26, 2014
Glass for a glass artist.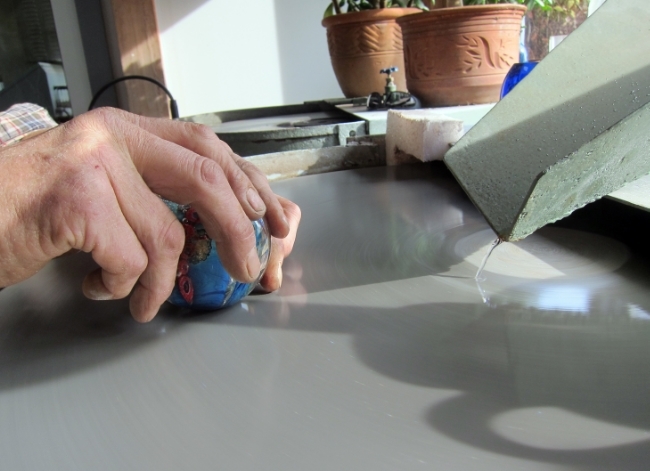 November 17, 2014
Kim grinding the bottom of a 3" Inhabited Planet Paperweight in the cold shop!
November 18, 2014
Josh cutting slices of circular shaped Filigrana Cane which he adds into his Planets and other Inhabited work. They look like white spiral wires or mysterious magical ribbons.
November 14, 2014
First snow fall of the year! Happy Friday everyone
December 8, 2014
Josh, Jay and Tucker are working on bowls today!
November 20, 2014
Hmmm where can these go?? Would anyone like some empty boxes?
November 13, 2014
Charging and filling up the furnaces with new hot glass! This means there is infinitesimal action in the hot shop... :(
November 7, 2014
Ever wonder what the inside of a Planet looks like
November 11, 2014
Josh, Jay and Tucker are working on 3.5" Megaplanets today. Here is Tucker almost finished shaping the exterior of the Planet
November 6, 2014
Opening day of the Philadelphia Museum of Art Craft Show!
November 10, 2014
Good bye for now Philadelphia! Josh, Jacqui and Kim had a wonderful time at the craft show and enjoyed everyone who visited!
November 4, 2014
A lovely lady found this Small Possibly Inhabited Planet in a dumpster!! It was signed in the 90's by Josh. She'll cherish it forever.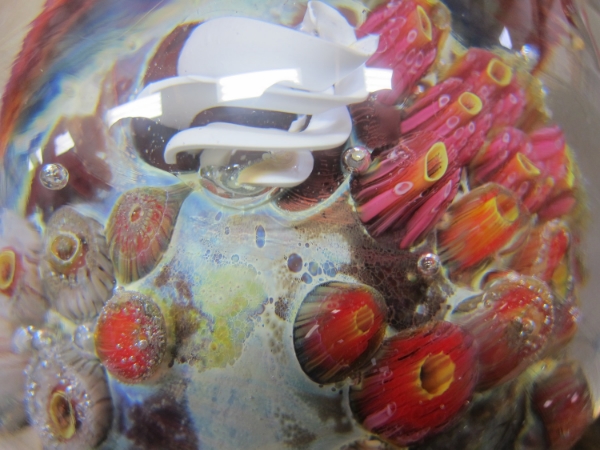 November 5, 2014
Up close to a Red New Mexico Planet.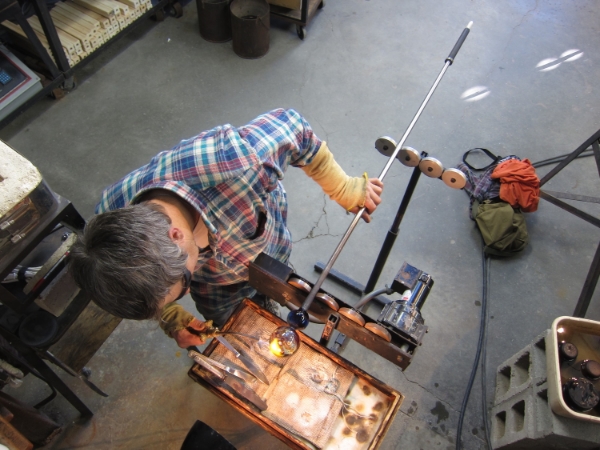 October 30, 2014
Kim Simpson bonking 3" Planets off a blow pipe.
October 29, 2014
Josh has quite the collection of glass color rods!
October 28, 2014
Looking through photographer Tommy Olof Elder's negatives. Tommy was Josh's photographer for over 20 years!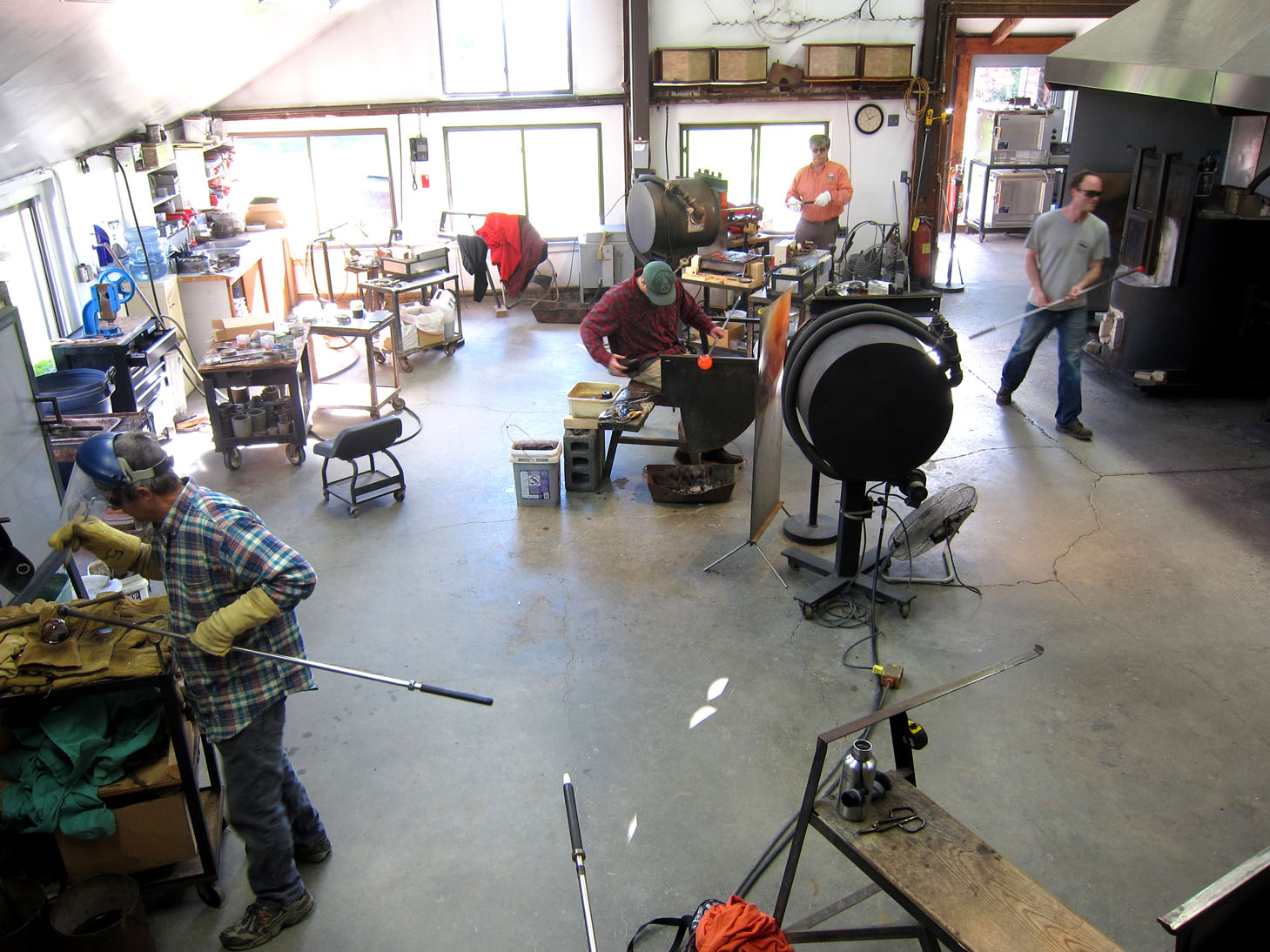 October 27, 2014
Josh working on each 3" Planet core filling it with life, Jay Brown and Tucker Litchfield shaping the exterior atmosphere for each Planet, and Kim Simpson bonking Planets off the pipe and putting them away to cool. We're happy seeing a busy hot shop!
October 23, 2014
Today's doppler radar is a bit stormy! (fyi: Detail of a Corona Platter.)
October 22, 2014
Josh found the one and only hollow/.blown Megaworld! He made this Planet with his crew in the 90's.
October 21, 2014
This is the result when your bookkeeper (Diantha) gets just as much mail as you! Forever together means you can NEVER retire, Diantha!
October 17, 2014
Josh caught this beautiful fall view from the hot shop with the fog rolling over the valley. Hope everyone enjoys a beautiful Friday!
October 20, 2014
Out with the old.... and in with the new! Josh's clear furnace exploded a bit over Friday night. The crew is in the hot shop fixing it up with a new crucible pot!
October 14, 2014
Josh's son, Jamey, was thrilled to have his glass on display with his father this past weekend!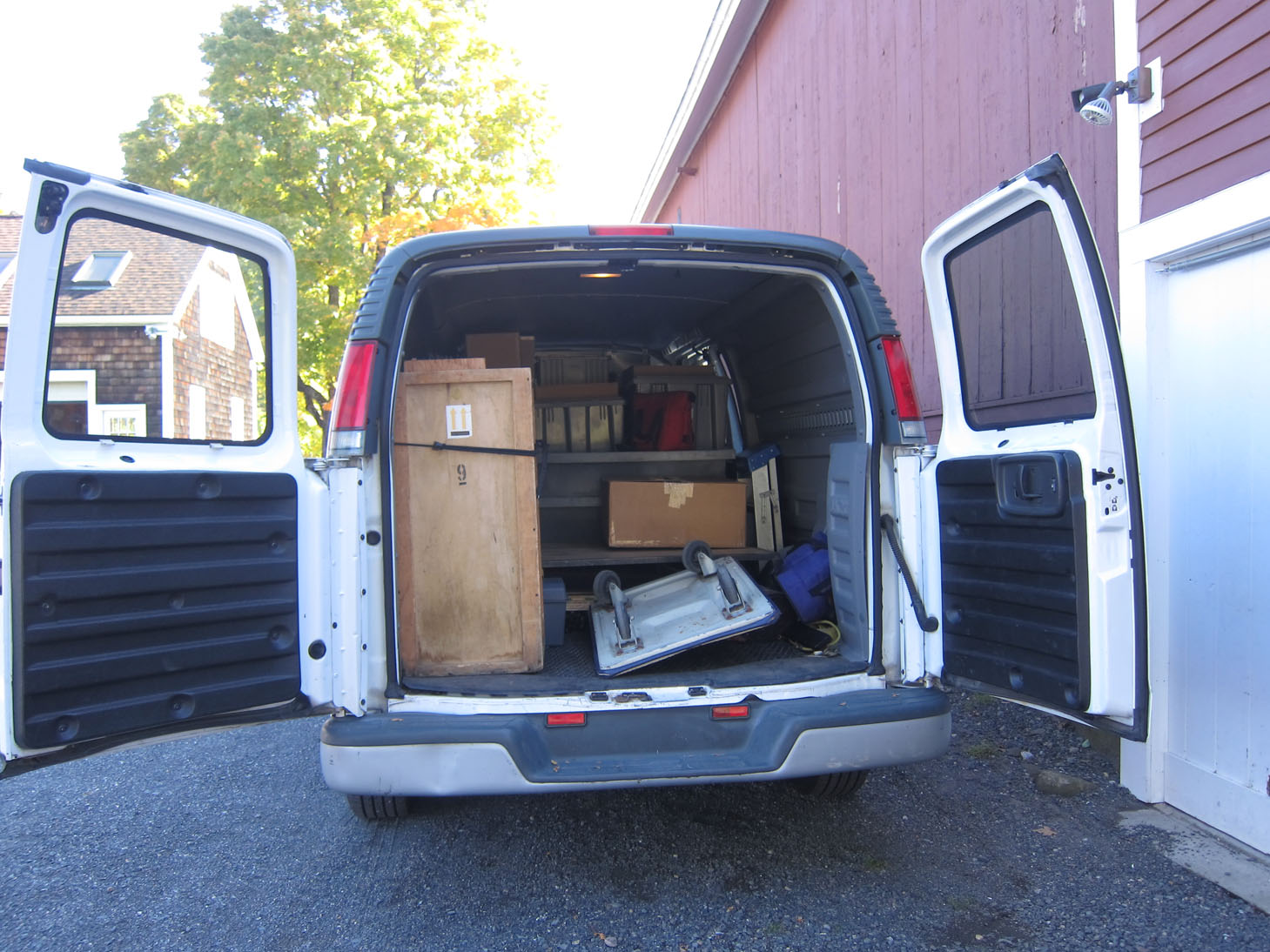 October 9, 2014
The van's packed and we're ready for Paradise City! Northampton, we're ready for you!
Click this image for this weekends Paradise City craft show!
October 2, 2014
One of our wonderful collectors shared these pictures of an early Platter from 1977 with inclusions of silver!
October 10 - 13, 2014
Kim, Jacqui, and Josh have the display ready for the beginning of Paradise City: Northampton.
October 1, 2014
WOAH.... This looks like a crazy dream. Pretty fitting for the first day of the spookiest month of the year!
October 7, 2016
A new video has been added to our -About Josh : Videos page! Watch him make a beautiful Corona Tektite Sculpture! You can click this image to get there!
October 6, 2014
Look at these beautiful spaceships! You can find them in Josh's Inhabited glass work like his Planets or Inhabited Vases.
September 30, 2014
Josh captured the beautiful sunset last night!
September 29, 2014
The season is just about at it's peak! If you get a chance, take a drive down the Mohawk Trail (Rt. 2) and admire the beautiful fall foliage! Why not make a day of it? You can swing through Shelburne Falls Center walk on the Bridge of Flowers, eat a delicious lunch and stop in the Salmon Falls Gallery! Perfect.
September 26, 2014
Hoppy FRIDAY! We're ready to leap into the weekend! Frog legs anyone?
September 22, 2014
Josh and all had a great time this past Saturday in Westfield, Massachusetts celebrating the MEGAPLANET PALOOZA street festival! We would like to thank everyone who made this and past Westfield events possible!
September 19, 2014
WESTFIELD EVENTS THIS WEEKEND! Inspired Explorations exhibition reception - tonight from 5:30 to 7:30 at Westfield State University's campus gallery and the Megaplanet Palooza Westfield's downtown street festival - tomorrow, Saturday the 20th from 12 to 6 pm!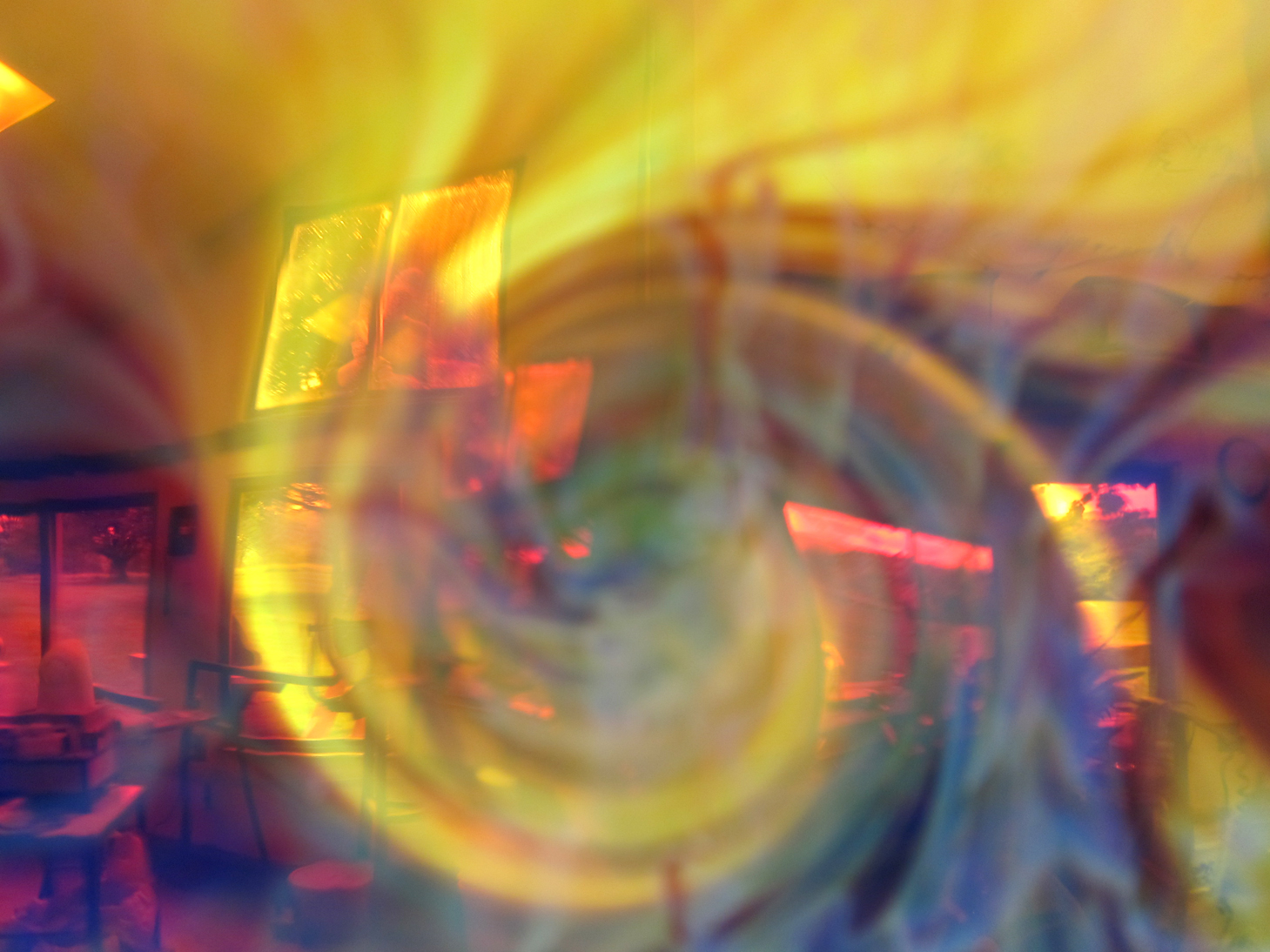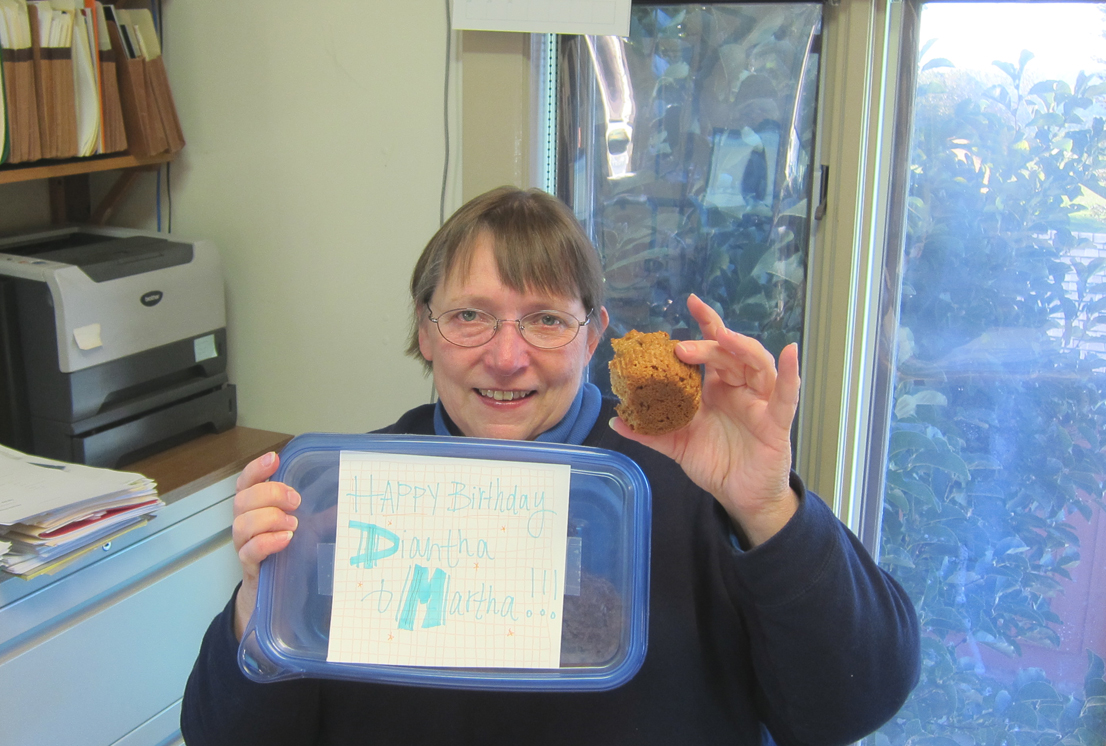 September 17, 2014
Wishing Diantha and her daughter, Martha a very happy birthday! Enjoy the cinnamon apple muffins!
September 16, 2014
Yesterday the Boston Globe published an article online - What is it like to live in Shelburne Falls? By Diane Broncaccio
Click this image to read!
September 11, 2014
We're noticing some changing leaves... that means the beautiful fall season is in the works!
September 9, 2014
New exhibit opening today at Westfield State University's on campus Arno Maris Gallery! Find more info and directions on our Upcoming Shows and Exhibition page!
September 8, 2014
Admiring the vibrant sunshine onto this Planet!
September 4, 2014
We've been debating on titles for this one.... "Today in the Garden" or "Corning Beef and Cabbage".
September 3, 2014
Today Josh and Jacqui picked out glass work to be a part of Inspired Explorations: Josh Simpson and Friends. A show at Westfield State University's on campus Arno Maris Gallery. This will be a group showing of Josh and his past apprentices and students. September 9th to October 18th with a reception on September 19th from 5:30 - 7:30
September 2, 2014
Josh "tenderizing" the Fla - Vor ice popsicles.
August 29, 2014
Beautiful sunflowers in Josh's garden. We all wish you a relaxing Labor Day free of labor.
August 28, 2014
Jamey took Emma on a golf cart ride for her last day!
August 27, 2014
Found a file of older photos taken in the early 70's while Josh was busy starting up his glass blowing career.
August 25, 2014
It's the last week to check out the Glass/bash exhibit at Salmon Falls Gallery. A collection of eleven talented glass artists on view until August 31st!
August 18, 2014
The Westfield on Weekends Television Show crew had a great time last week recording an interview between Josh and Bob Plasse. Everyone in the Wesfield area can catch it on channel 15 in the beginning of September.
August 15, 2014
A wonderful collector showed off a few vintage Simpson glass from the mid 70's. (Not including the flower filled Blue New Mexico Vase in the back!)
July 15th, 2014
Western Mass has it's fill of rain recently. On a day like this, Kim gets to be in the grinding shop.
July 14, 2014
Our vacation is officially over and we're happy to be back! Jacqui's brother, Henry is helping Kim weed the vegetable garden on this beautiful day.
July 2, 2014
Josh outside of the Westfield Athenaeum. Wishing you a Happy 4th and some good laughs!
June 30, 2014
The Megaplanet Promenade was a success this past Saturday in Westfield, Massachusetts! We all had a blast! You should visit the three exhibitions. Call us or go to www.joshsimpsonuniverse.com for more info!
June 23, 2014
Josh with his work at the opening of the "Glass Today: 21st Century Innovations" show at the New Britain Museum of American Art last night.
June 6, 2014
The crew took some new group photos recently. Josh zoomed in on this one... mean mugs and all its ridiculousness.
May 30, 2014
Today is Chip's last day! He has been delivering and picking up our UPS shipments for 30 years! We look forward to his next visit, even if he doesn't have a box of goods for us. Congrats, Chip on your many years of wonderful service!
May 22, 2014
Dunkin' portals into the Tektite glass!
May 27, 2014
Josh after he received his Honorary Degree from Westfield State University!
May 20, 2014
Jacqui felt pretty safe with Cady in this space shuttle at Amelia Park Children's Museum in Westfield.
May 19, 2014
Jerry Greenfield (from Ben and Jerry's Ice Cream) scooping Josh and Cady's favorite: Chocolate Fudge Brownie at Westfield State University's commencement!
May 15, 2014
Just checkin' out some of the Copper Ruby glass!
May 13, 2014
Josh is working on some new Corona Vases today!
May 12, 2014
Beautiful blooming Azalea by Josh's pond.
May 7, 2014
Ohhhh that beautiful Sunshine Corona!
May 2, 2014
Josh making a spaceship shoot out of the 6" Megaplanet's core!
April 28, 2014
Tyler is happy to have the photo room back in order after a little Spring cleaning!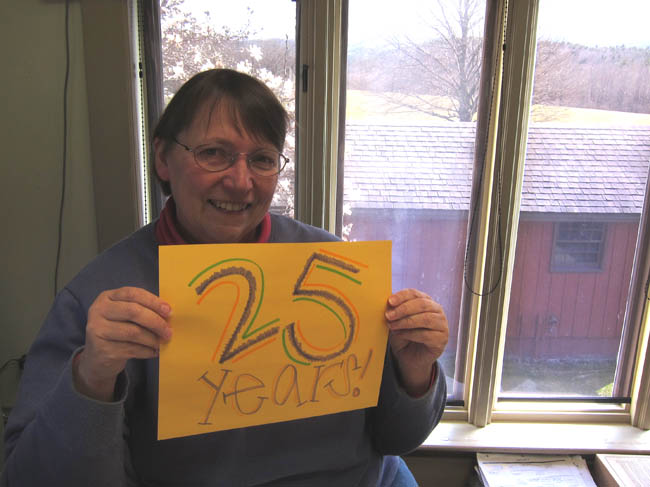 April 25, 2014
We can't believe it, but Diantha has officially been working here at JSCG for 25 years!!!!! We're happy you haven't run for the hills! Thanks for putting up with our absurd behaviors. :)
April 24, 2014
A BIG thank you to all who attended Josh's lecture at Westfield State University last night! The room was packed with students, faculty and community supporters. Looking forward to more events in Westfield this summer!
April 22, 2014
Making 3" Planet Paperweights today! Wishing everyone on our planet a peaceful and lovely Earth Day!
April 21, 2014
Josh took a great picture of his son, Jamey and brother, Kim when we still had that white stuff on the ground. Kim was busy preparing the yard for warmer weather. Time for brush burning!
April 18, 2014
Welp! Been a few years, but it's about time to clean out the pond scum!!
April 17, 2014
Today Josh is making spaceships for his Planets and other inhabited work. Seems so peaceful.
April 15, 2014
It's a beautiful rainy spring day! Lovely to see the Magnolia tree's buds are opening outside of the office window!
April 10, 2014
Ah, mud season in Massachusetts... no flowers, no leaves, no green.. all brown. (Obviously not taken today...)
April 9, 2014
Special Infinity Planet hanging out with some Koala's in Australia.
April 8, 2014
Smaller Corona Platters for today! Love seeing the colors shine in the sun!
April 7, 2014
Josh gets the JSCG team going every morning (and sometimes throughout the day) by supplying us with local Pierce Bros Coffee! It's Monday... we like starting the day off with a cup of Fogbuster! :)
April 4, 2014
Enjoy the warmer temps this weekend before it gets too HOT!
April 2, 2014
Josh found time to fly the plane!
March 31, 2014
This past Saturday Josh, Cady, and Jacqui attended the 175th Anniversary Scholarship Gala at Westfield State University. During the Gala, there was a raffle for one of Josh's Planets. All donations going towards a kick-starter scholarship for Arts and Science.
March 27, 2014
Enjoying the bright sunny day!
March 26, 2014
The usual: Josh saying something goofy and Anne trying but failing to keep a straight face! Josh has been testing his Sunshine Corona glass today!
March 25, 2014
Wishing we could have this deliciously HUGE racetrack pastry Jonathan Oakleaf brought last week!
March 24, 2014
Josh's Sunday Red New Mexico test melts!
March 14, 2014
Photographer, Mike Rossi in the studio today shooting with 8 x 10 film! Looking forward to seeing the final results!
March 12, 2014
Josh playing spoons on stage last night with the Chieftains at the Colonial Theater in Keene, NH! See him on the left?
March 11, 2014
What good is spring break 2k14 when your malevolent dad makes you help in the studio?
February 27, 2014
We're all getting pretty sick of the constant freezing temperatures... Diantha finally put her turtleneck to use for today's frigid weather!
February 25, 2014
Before Josh leaves tomorrow for Crafts America: Palm Beach, he decided to make a few 3.5" Megaplanets with Jeff and Anne.
February 21, 2014
Josh and Kim sent an image yesterday after the display was set up. They're ready to go for the weekend in Baltimore!
February 20, 2014
We wanted to share a beautiful picture taken this week by one of our favorite visitors!
February 17, 2014
Tyler, our talented new intern has been busy photographing and editing glass for our shopping page. Check out his images and enjoy!
February 14, 2014
Josh doesn't need a holiday to express the crazed love he feels... and today its for medium sized Blue New Mexico Vases!